CORRINGTON MUSEUM OF ALASKAN HISTORY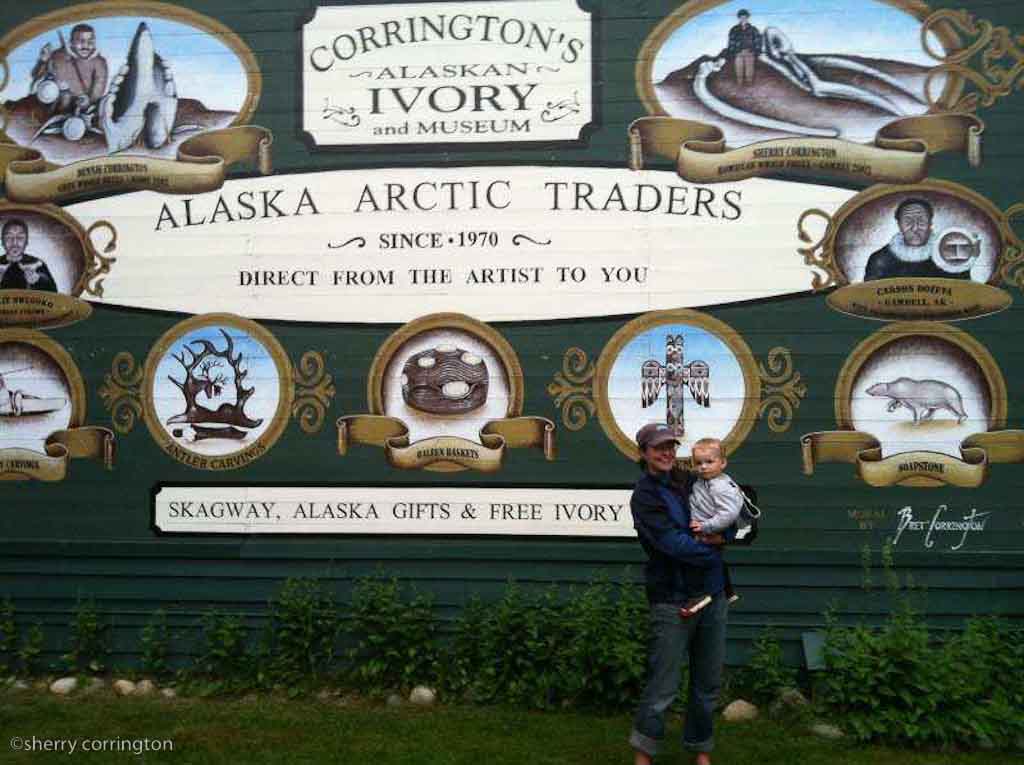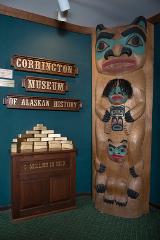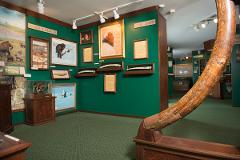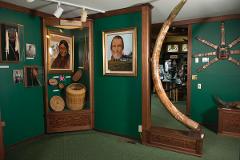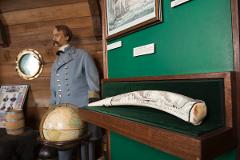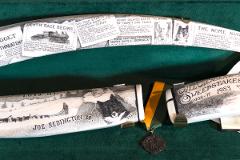 Add a guided visit to the famous Corrington Museum of Alaskan Historyfeaturing the history of Alaska on masterfully scrimshawed walrus tusks. Your guide's father, Dennis Corrington, created the Smithsonian-worthy exhibit so she knows much about the amazing stories captured in scrimshaw. Starting with the prehistory of Alaska the museum will guide you through exhibits featuring Native peoples, the Civil War, Gold Rush, Reindeer Herding, Sinking of the Princess Sofia, Aviation, World War 2, and The Iditarod Trail Sled Dog Race and more.
See the dogsled used by Dennis in the 1976 Iditarod as well as the coveted Red Lantern Award for last place. The museum also features the world's largest baleen basket as well as a massive mastodon tusk and trade bead display.

The museum is free to the public and obviously you may visit on your own time after the tour without a guide to ask questions, but it might be fun to have a personalized tour of this amazing exhibit. We can include a photo shoot in front of the giant mural on the side of the building featuring YOUR guide painted by her talented brother Bret. Your guide is the only guide in Skagway with their very own
mural. Cool. A visit to the Corrington Museum of Alaskan History can be incorporated into any of our hourly tour options at no additional charge.

Group rate of $150 per hour for up to 6 people. 4 hour minimum.
(*Warning: we might run into Dennis Corrington who is full of so many stories youeither might not want to leave or you might not be able to get away. We can come up with a code word in case it's just too much. How about
"toothpaste" or "bubbles"?)

ALL TOURS TRAVEL UP THE KLONDIKE HIGHWAY TO THE WHITE PASS SUMMIT AND INCLUDE THESE STOPS OR DRIVE BY LANDMARKS:
*Denver Valley

*Rocky point, Brackett's wagon road and White Pass & Yukon Route Railroad tracks
*Scenic scrap metal heap and city trash incinerator
*US Customs
*Pitchfork Falls and Goat Lake Hydro Pipeline
*Bridal Veil Falls and White Pass City valley
*Moore Creek Bridge
*Welcome to Alaska Sign
*International Falls
*Sub Alpine terrain
*Multiple hanging glaciers


4 Hour YUKON TOUR adds:
*35 miles beyond White Pass summit
*Views of Summit/Fraser Lake
*Canadian Customs
*Yukon Suspension Bridge ( $14 to cross bridge)
*Tutshi Boat Launch
*Tutshi panoramic view
*Windy Arm of Tagish Lake
*Sherry's favorite photo stop
*Welcome to the Yukon sign


5 hour CARCROSS TOUR adds:
*52 miles beyond White Pass Summit
*Historic Venus Mine
*Bove Island and Lime Mt.
*Historic Carcross village
*Flush toilets!
*Sandy beach at Lake Bennett


6 hour EMERALD LAKE TOUR adds:
*61 miles beyond the summit
*Carcross Desert
*Spectacular Emerald Lake
*More time to visit Carcross
*Opportunity
to visit Caribou Crossing and experience their fantastic wildlife
museum, dog sled demonstrations, dog cart rides, pet a puppy/sled dog,
go gold panning, or take a helicopter ride for additional fees.

WE CAN EASILY ADD THE MUSEUM TOUR TO ANY OF THESE HOURLY TOUR OPTIONS WITHOUT CUTTING OUT TOO MANY STOPS ON THE HIGHWAY TOUR, UNLESS WE SPEND A LOT OF TIME IN THE MUSEUM, THEN WE COULD ADD MORE TIME IF THE SPACE IS AVAILABLE OR JUST NOT GO AS FAR. IT IS YOUR CHOICE.


Hourly rate is $150 hr with a 4 hour minimum.
4 HOURS $600
5 HOURS $750
6 HOURS $875
Tours are subject to a 5% city sales tax.
Museum photos courtesy of Bret Corrington and Artist Eye Portfolio Studio, Seattle, Wa specializing in art photography and portfolio management for artists of all genres. http://artisteyestudio.com/