THE INUKSHUKS SUCK TOUR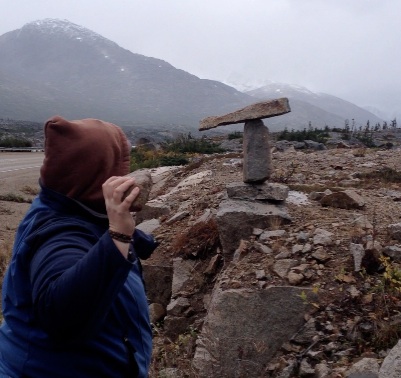 Your driver escorts you up the Klondike Highway to a 7 mile stretch past the White Pass summit to knock down as many stacked rocks and Inukshuks you can possibly destroy in a minimum of 4 hours. Everywhere you look there are signs of man's presence in the middle of what should be pristine, untouched nature. Visitors have been trampling and destroying a fragile eco-system all along the highway to make these senseless stacks, rendering the actual stacks we use to mark trails and other important landmarks almost impossible to discern. I'm sure the smell of humans has impacted wildlife sightings throughout this area, as well. You can help the next bus load of wide-eyed visitors avoid the distraction of "why are all the rocks stacked?" instead of absorbing the rugged beauty of this magnificent region. Contribute to a return to the untouched beauty of the land, where man's fingerprint cannot be seen.
This can be done free of charge on ANY 4-6 hour tour.
ALL TOURS TRAVEL UP TO THE WHITE PASS SUMMIT AND INCLUDE THESE STOPS OR DRIVE BY LAND MARKS:*Denver Valley
*Rocky point, Brackett's wagon road and White Pass & Yukon Route Railroad tracks
*Scenic scrap metal heap and city trash incinerator
*US Customs
*Pitchfork Falls and Goat Lake Hydro Pipeline
*Bridal Veil Falls and White Pass City valley
*Moore Creek Bridge
*Welcome to Alaska Sign
*International Falls
*Sub Alpine terrain
*Multiple hanging glaciers


4 Hour YUKON NOVELTY TOUR adds:
*35 miles beyond White Pass summit
*Views of Summit/Fraser Lake
*Canadian Customs
*Yukon Suspension Bridge ( $14 to cross bridge)
*Tutshi Boat Launch
*Tutshi panoramic view
*Windy Arm of Tagish Lake
*Sherry's favorite photo stop
*Welcome to the Yukon sign


5 hour CARCROSS NOVELTY TOUR adds:
*52 miles beyond White Pass Summit
*Historic Venus Mine
*Bove Island and Lime Mt.
*Historic Carcross village
*Flush toilets!
*Sandy beach at Lake Bennett


6 hour EMERALD LAKE NOVELTY TOUR adds:
*61 miles beyond the summit
*Carcross Desert
*Spectacular Emerald Lake
*More time to visit Carcross
*Opportunity
to visit Caribou Crossing and experience their fantastic wildlife
museum, dog sled demonstrations, dog cart rides, pet a puppy/sled dog,
go gold panning, or take a helicopter ride for additional fees.
**An accident waiver shall be signed claiming responsibility for your own actions, or you can not destroy stuff.
4 HOURS $500
5 HOURS $625
6 HOURS $750
$125 PER HOUR WITH A 4 HOUR MINIMUM.
Tours are subject to a 5% city sales tax.