THE BEAR HUNT OPTION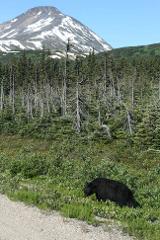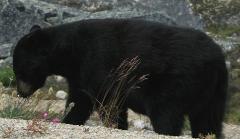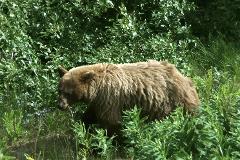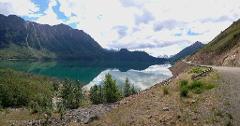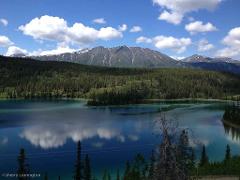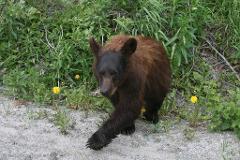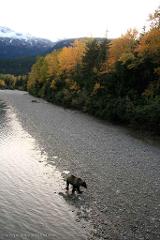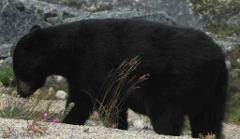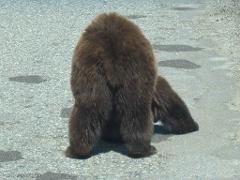 Add an obsessive search for black bears, brown bears and the rare "spirit bear" a white black bear only found in two small areas on earth to any of our hourly tour option for no additional charge. Wildlife sighting are not guaranteed and every year brings different potential sightings. Summer of 2012 was the Year of the Bear,
and your guide saw 1-4 bears a day in May alone. Her boss even called her "Sherry Beary". Last summer it was a dead zone and only 4 bears were spotted in May. This is just proof that the seasons are unpredictable and that really the sightings are up to the bears. Most tour guides don't want to talk about bears unless they see them because they don't want people to be disappointed. YOUR guide however knows that everyone
(including herself) wants to see bears or any other wildlife, so why downplay the search? It's why we choose to live here; we want to enjoy nature.

In case you were wondering bears don't s#@* in the woods, they do it on the road which gives us a great opportunity to see one of these amazing beings in action.
Your guide will point out piles of bear poop on the road so we will know that they are close and we can be extra alert for the pooping culprit. Traveling with a local increases your odds of spotting wildlife as she will know the spots where wildlife has been spotted in the past. She also knows the area like the back of her hand which means she won't be tricked by the culvert that looks like a bear or the stump that looks like a cub. That happened years ago, so she can focus on real possible sightings like a pro. Your guide will share personal bear encounters that only years of living and hiking in Alaska could provide. The farther you travel into the interior the greater the opportunity for wildlife which means the longer the tour, the better your chance so go ahead a book a 6 hour tour. Binoculars and a spotting scope will be available on this tour for everyone to share.
Group rate of $150 per hour for up to 6 people. 4 hour minimum.
NO BEARS WILL BE ACTUALLY HUNTED UNLESS YOU COUNT SHOOTING THEM WITH A
DIGITAL CAMERA. NO FEEDING, APPROACHING OR DISTURBING BEARS WILL BE TOLERATED.
NO GUARANTEES CAN BE MADE FOR WILDLIFE SIGHTING. IF YOU WANT A GUARANTEED WILDLIFE SIGHTING BOOK THE JUNEAU WHALE WATCHING TOUR HERE OR HEAD TO THE RED ONION SALOON AFTER THE TOUR-- IT GET'S PRETTY WILD IN THERE...
ALL TOURS TRAVEL UP TO THE WHITE PASS SUMMIT AND INCLUDE THESE STOPS OR DRIVE BY LAND MARKS:
*Denver Valley
*Rocky point, Brackett's wagon road and White Pass & Yukon Route Railroad tracks
*Scenic scrap metal heap and city trash incinerator
*US Customs
*Pitchfork Falls and Goat Lake Hydro Pipeline
*Bridal Veil Falls and White Pass City valley
*Moore Creek Bridge
*Welcome to Alaska Sign
*International Falls
*Sub Alpine terrain
*Multiple hanging glaciers

WHEN TRAVELING AT TYPICAL PACE WITH PHOTO STOPS, IN 4 HOURS WE CAN TRAVEL 100 MILES ROUNDTRIP AND SEE:
*Views of Summit/Fraser Lake
*Canadian Customs
*Yukon Suspension Bridge ( $14 to cross bridge)
*Tutshi Boat Launch
*Tutshi panoramic view
*Windy Arm of Tagish Lake
*Sherry's favorite photo stop
*Welcome to the Yukon sign

WITH 5 HOURS WE CAN TRAVEL 130 MILES ROUND TRIP AND INCLUDE:

*Historic Venus Mine
*Bove Island and Lime Mt.
*Historic Carcross village
*Flush toilets!
*Sandy beach at Lake Bennett
WITH 6 HOURS WE CAN TRAVEL 150 MILES ROUND TRIP AND INCLUDE:
*
Carcross Desert
*Spectacular Emerald Lake
*More time to visit Carcross
*Opportunity
to visit Caribou Crossing and experience their fantastic wildlife museum, dog sled demonstrations, dog cart rides, pet a puppy/sled dog, go gold panning, or take a helicopter ride all for additional fees.

4 HOURS $600
5 HOURS $750
6 HOURS $875

Tours are subject to a 5% city sales tax.