BEST OF SKAGWAY: TRAIN-HIGHWAY COMBO ADVENTURE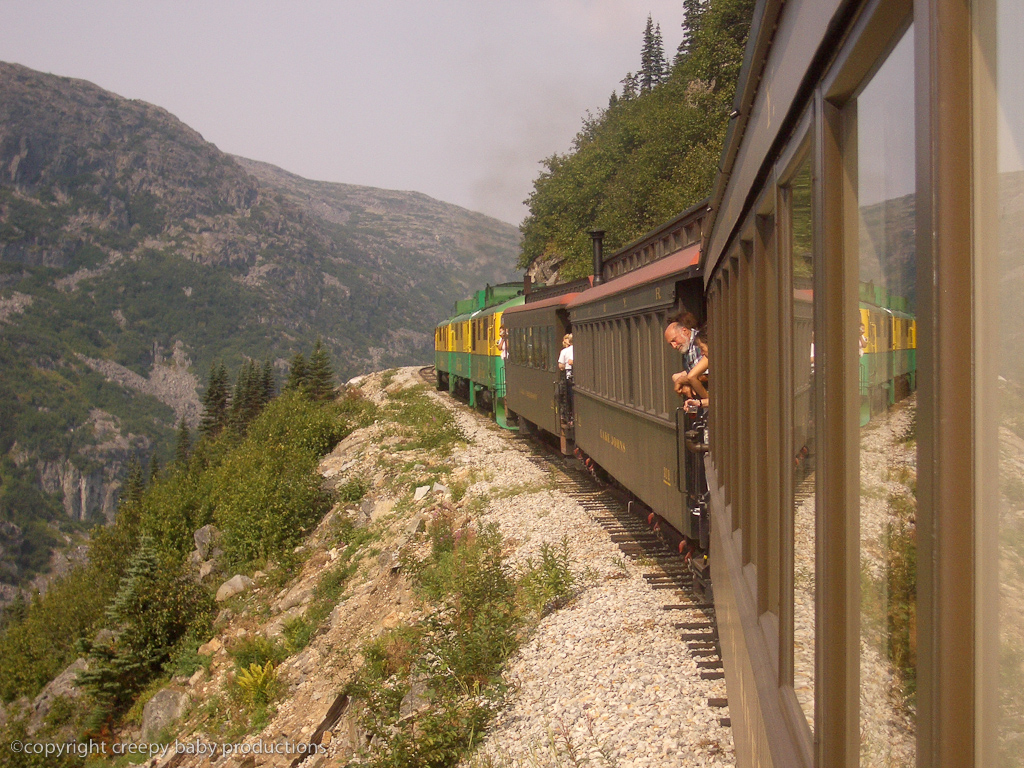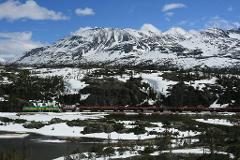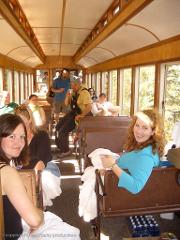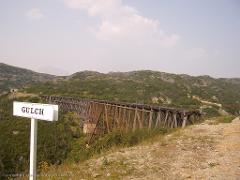 Duration: 9 Hours (approx.)
Product code: CHOOCHOO
Experience the infamous White Pass and Yukon Route Railroad as well as the greatest drive in North America all in one fun filled day! Your driver will pick you up at your ship at 7:30 am and take you on drive of your life up the Klondike Highway to the White Pass Summit, through northern British Columbia and into the majestic Yukon Territory. Enjoy views of the train tracks and maybe spot a train in action while you are driving north. For those who take the summit only train, they never get to see how great they look from afar-- that is one of the reasons the highway/train combo is so wonderful; you get to see both amazing routes into the interior. With 7 Hours you will have plenty of time to enjoy the scenery along the way, stop for a picnic lunch at a favorite natural location, or have time for a sit down lunch at a local eatery. A 7:30 departure puts you out ahead of the big buses and mass exodus on the busy ship days.
We will enjoy all the sights up the highway to Emerald Lake, Yukon. We will stop off and enjoy a relaxed visit to the town of Carcross, Yukon which is a tiny First Nation's village on the bank of lake Bennett. We will have plenty of time to find lunch or a snack to enjoy at the beach or at the world's smallest desert just north of town. Nearby is the attraction Caribou Crossing which features dogsled rides, demonstrations, gold panning, helicopter rides, RCMP museum, wildlife museum and hobby farm. There are also sled dogs to pet and if the timing is right... puppies! There are additional fees for Caribou Crossing if we choose to go there. They also have a cafe so if some of your group wants to go in and participate, and others just want to sit and enjoy a meal-- you can do so. It's your day to do as you wish!
As of 2016 dog sledding fans can also experience a wonderful dog camp run by Iditarod and Yukon Quest musher Michelle Phillips who went rogue after operating out of Caribou Crossing for many years. Her camp is much more remote and phenomenally scenic with no chance of big buses dropping off since she is still just getting her location on the map in the industry. You may enjoy her sweet dogs in the petting area and quite possibly a litter of puppies who need socializing:). Additional fees required upon arrival (for admission and for cart rides).
We will make our way back to Fraser, British Columbia where you will board your afternoon Train car for a spectacular journey on the WP&YR RR. Experience the magnificence of this engineering marvel as you wind along steep mountainsides and see views of the original Trail of 98 used by the Stampeeders. You will enjoy a ride back with new scenery the entire way. Relax in vintage passenger coaches as you retrace the original route to the White Pass Summit in reverse starting at 2865ft in elevation and returning to sea level. Enjoy a breathtaking panorama of mountains, glaciers, gorges, waterfalls, tunnels, trestles and historic sites. See the
original Klondike Trail of '98 worn into the rocks, a permanent tribute to the thousands of souls who passed this way in search of fortune. This is truly the best way to experience the train in Skagway.
The driving portion of the tour will be 6 hours total at a vehicle rate of $875 for the entire group up to 6 people. The train portion costs $84 per person for adults and $42 for a child.
***********************************************************************************************************************************
THE TRAIN PORTION OF THE TOUR MUST BE BOOKED SEPARATELY THROUGH THE WHITE PASS TICKET OFFICE RESERVATIONS: Toll Free: 800 343 7373OR THROUGH THEIR WEBSITE http://www.wpyr.com/fraser.html. Book the AFTERNOON TRAIN. WE will arrive at the depot at Fraser at 2-2:15 for your 2:45 departure by train to Skagway.
********************************************************************************************************************************
THERE IS A MORNING TRAIN FIRST OPTION WHERE YOU WOULD DEPART VIA THE TRAIN AT 8 AM AND BEGIN THE DRIVING PORTION AT 9:45 OR SO WHEN YOUR DRIVER PICKS YOU UP AT FRASER. THE CHOICE IS YOURS, BUT THE WEATHER TENDS TO BE BETTER IN THE AFTERNOON SO THAT IS LIKELY THE BEST OPTION FOR THE TRAIN PORTION. I tend to discourage the morning train option-- it's a likely source of disappointment. PLEASE EMAIL IF YOU HAVE QUESTIONS.
Tour prices are subject to a 5% city sales tax which will be added to the total at checkout.
THE TRAIN WILL DROP YOU OFF ON 13th AVENUE IN SKAGWAY WHERE IT IS AN EASY 3 MIN WALKTO DOWNTOWN AND 15 MIN WALK TO SHIPs OR YOU CAN TAKE THE S.M.A.R.T. CITY SHUTTLE BUS THAT PICKS UP at the train FOR $2 EACH.
DRIVING INFORMATION AND SIGHTS ARE LISTED BELOW:
ALL driving TOURS TRAVEL UP TO THE WHITE PASS SUMMIT AND INCLUDE THESE STOPS OR DRIVE BY LAND MARKS:*Denver Valley
*Rocky point, Brackett's wagon road and White Pass & Yukon Route Railroad tracks
*Scenic scrap metal heap and city trash incinerator
*US Customs
*Pitchfork Falls and Goat Lake Hydro Pipeline
*Bridal Veil Falls and White Pass City valley
*Moore Creek Bridge
*Welcome to Alaska Sign
*International Falls
*Sub Alpine terrain
*Multiple hanging glaciers

THE 6 HOUR EMERALD LAKE TOUR ADDS:
*60 miles beyond White Pass summit
*Views of Summit/Fraser Lake
*Canadian Customs
*Yukon Suspension Bridge ( $14 to cross bridge)
*Tutshi Boat Launch
*Tutshi panoramic view
*Windy Arm of Tagish Lake
*Sherry's favorite photo stop
*Welcome to the Yukon sign
*Historic Venus Mine
*Bove Island and Lime Mt.
*Historic Carcross village
*Flush toilets!
*Sandy beach at Lake Bennett
*
Carcross Desert
*Spectacular Emerald Lake
*More time to visit Carcross
*Time for lunch/snack
*Opportunity
to visit Caribou Crossing and experience their fantastic wildlife
museum, dog sled demonstrations, dog cart rides, pet a puppy/sled dog, or
go gold panning all for additional fees.
Tours are subject to a 5% city sales tax.