BEST OF SKAGWAY: TRAIN-HIGHWAY COMBO AFTERNOON ADVENTURE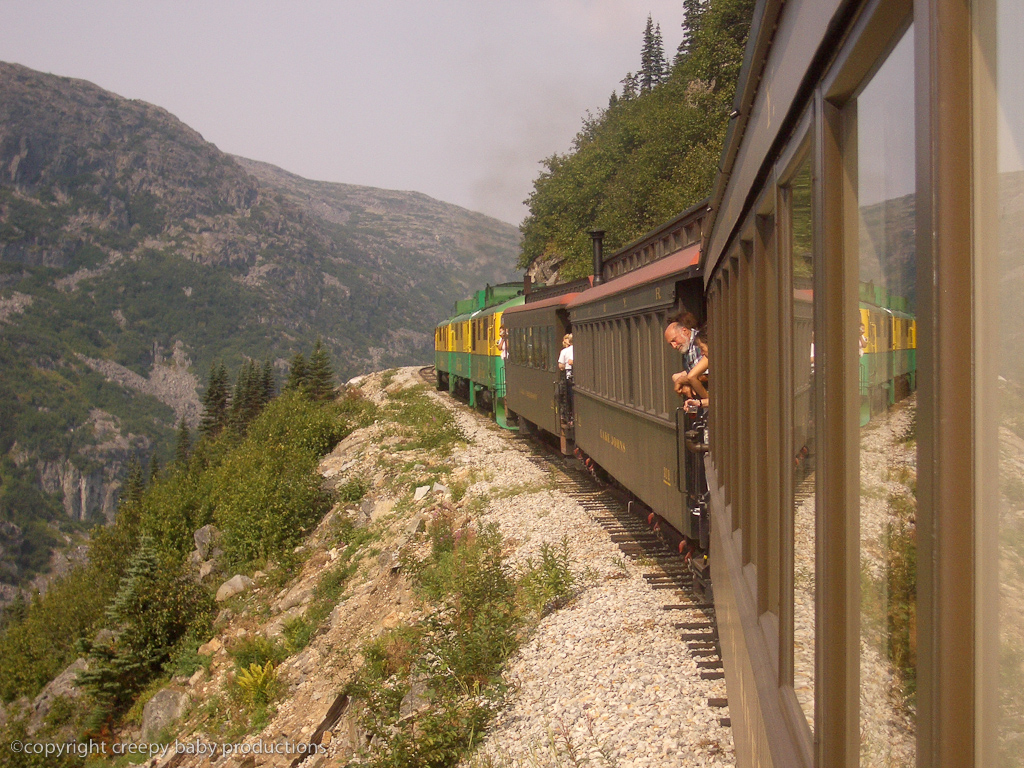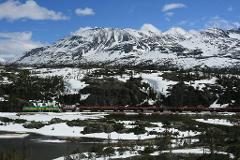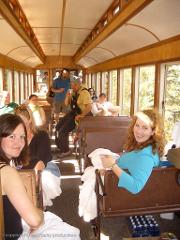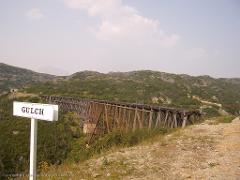 Duration: 4 Hours (approx.)
Product code: CHOOCHOO
Experience the infamous White Pass and Yukon Route Railroad as well as the greatest drive in North America all in one fun filled day! Your afternoon departure will give you the chance to take another tour in the morning, explore the town while it is on the quieter side, or you can sleep in for a change! You are on your own to pick up your train tickets which you PREBOOK in advance from the train depot on 2nd ave. You can walk or take the city shuttle up to 13th ave Fraser train station for your 12:40 FRASER TRAIN DEPARTURE. Your train departs at 12:40 so it is good to be there 20 minutes early to find your car assignment from the station master.

Experience the magnificence of this engineering marvel as you wind
along steep mountainsides and see views of the original Trail of 98 used
by the Stampeeders. You will enjoy a ride back by minivan with with new scenery the
entire way. Relax in vintage passenger coaches as you retrace the
original route to the White Pass Summit starting at sea level
and chugging up to 2865ft in elevation. Enjoy a breathtaking panorama of
mountains, glaciers, gorges, waterfalls, tunnels, trestles and historic
sites. See the original Klondike Trail of '98 worn into the rocks, a
permanent tribute to the thousands of souls who passed this way in
search of fortune. This is truly the best way to experience the train in
Skagway.

Your driver will be waiting for you at Fraser BC. Your train will arrive at 2:45 and it will take approx 15 min for Customs to clear the train (BE SURE TO GO TO THE BATHROOM BEFORE THE TRAIN NEARS FRASER AS THE DELAY CAUSED BY USING RESTROOMS AT THIS LOCATION WILL CAUSE A BACK UP IN VEHICLES HEADING NORTH AND CAN COST US 15 MINUTES DUE TO WAITING-- SO ONCE YOU HIT THE SUMMIT...GO TO THE RESTROOM ON THE TRAIN:)).
Your driver take you on drive of your life up the Klondike Highway through northern British Columbia and to the majestic Yukon Territory/BC border. You will have many opportunities to stop for photos and enjoy the scenery up the highway and all the way back to Skagway. Enjoy views of the train tracks and maybe spot a train in action while you are driving south back to town. For those who take the summit only train, they never get to see how great they look from afar-- that is one of the reasons the highway/train combo is so wonderful; you get to see both amazing routes into the interior.

The driving portion of the tour will be 3 hours total at a vehicle rate of $500 for the entire group up to 6 people. The train portion costs $84 per person for adults and $42 for a child and must be purchased well in advance directly from White Pass RR. PASSPORTS REQUIRED TO PICK UP TICKETS AND BOARD THE TRAIN.
***********************************************************************************************************************************
THE TRAIN PORTION OF THE TOUR MUST BE BOOKED SEPARATELY THROUGH THE WHITE PASS TICKET OFFICE RESERVATIONS: Toll Free: 800 343 7373OR THROUGH THEIR WEBSITE http://www.wpyr.com/fraser.html. Book the AFTERNOON TRAIN. You will depart Skagway at 12:40 NORTHBOUND and arrive Fraser BC at 2:45
********************************************************************************************************************************
Tour prices are subject to a 5% city sales tax which will be added to the total at checkout.
THE TRAIN WILL DEPART AT 12:40 ON 13th AVENUE IN SKAGWAY WHERE IT IS AN EASY 3 MIN WALK FROM DOWNTOWN AND 15 MIN WALK FROM THE SHIPs OR YOU CAN TAKE THE S.M.A.R.T. CITY SHUTTLE BUS FOR $2 EACH. PASSPORTS ARE REQUIRED FOR ALL PASSENGERS AND MUST BE SHOWN WHEN YOU PICK UP YOUR TICKETS AT THE TRAIN DEPOT ON 2ND AVE
DRIVING INFORMATION AND SIGHTS ARE LISTED BELOW:
TOURS TRAVEL UP TO YUKON VIA THE WHITE PASS SUMMIT AND INCLUDE THESE STOPS OR DRIVE BY LAND MARKS:*Denver Valley
*Rocky point, Brackett's wagon road and White Pass & Yukon Route Railroad tracks
*Scenic scrap metal heap and city trash incinerator
*US Customs
*Pitchfork Falls and Goat Lake Hydro Pipeline
*Bridal Veil Falls and White Pass City valley
*Moore Creek Bridge
*Welcome to Alaska Sign
*International Falls
*Sub Alpine terrain
*Multiple hanging glaciers
*Views of Summit/Fraser Lake
*Canadian Customs
*Yukon Suspension Bridge ( $14 to cross bridge)
*Tutshi Boat Launch
*Tutshi panoramic view
*Windy Arm of Tagish Lake
*Sherry's favorite photo stop
*Welcome to the Yukon sign

Tours are subject to a 5% city sales tax.
BOOKING SYSTEM NOTE:
In the booking option to the right above it says "choose a time" and 2:00 is the option-- this is for my booking purposes in order to have it correctly register in my booking calendar.
THE ACTUAL TOUR BEGINS AT 12:40 WITH THE TRAIN DEPARTURE FROM FRASER-- YOUR GUIDE WILL DEPART AT 2:00 TO DRIVE UP AND GET YOU AT 2:45 WHEN THE TRAIN ARRIVES FRASER BC. HERE IS THE ACTUAL ITINERARY:
SOMETIME BETWEEN 7AM-12:00 PICK UP TRAIN TICKETS AT WHITE PASS DEPOT ON 2ND (BRING PASSPORTS FOR TOUR AND TO PICK UP TICKETS)
12:40 TRAIN DEPARTS SKAGWAY 13TH AVE FRASER STATION

2:45 TRAIN ARRIVES FRASER (CUSTOMS CLEARS TRAIN BEFORE YOU CAN EXIT FOR VAN)
3:00APPROX BEGIN DRIVING PORTION
6:00 RETURN TO SKAGWAY AND DROP AT SHIP OR ANYWHERE IN TOWN